I've noticed several comments about this call already, so I wanted to give some details to it.
With third and 9 from the Steelers 34, Ravens quarterback Joe Flacco fumbled the ball at the 42. The ball was recovered by the Ravens at the 37 with 18 seconds left. With no timeouts remaining, the Ravens went into fire-drill mode to try and get a last second field goal attempt off. In all of this confusion, however, Ed Hochuli and his crew mistakenly spotted the ball at the 37.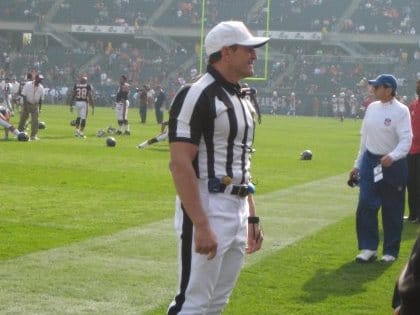 NFL Rulebook 8–7–6: If a fumble by either team occurs after the two-minute warning:

(a) The ball may be advanced by any opponent.

(b) The player who fumbled is the only player of his team who is permitted to recover and advance the ball.

(c) If the recovery or catch is by a teammate of the player who fumbled, the ball is dead, and the spot of the next snap is the spot of the fumble, or the spot of the recovery if the spot of the recovery is behind the spot of the fumble.
There were alot of things that the officials had to do at this time: spot the ball, make sure there were only 11 players on the field, watch for the field goal try, make sure there wasn't a false start, and be aware of a possible timeout called before the kick.
Regardless of this, is there any good reason for Hochuli's crew to err in the spotting of the ball and turn what should have been 59 yard try into a 54 yard try? Should the replay official have buzzed in to correct the call? thereby forcing an officials timeout and giving the Ravens time to set up?
I don't believe there's a good reason here for this to have happened and the ball should have been correctly spotted, that's the rule. Do you think they should have stopped the action and got the spot right?