It sure looked like it at the end of the Monday Night Game this week. I can't really explain what Jerome Boger was thinking when he high-fived Vince Young at the end of the game. Referees are supposed to be impartial, and although we see them talking to players every week, or smiling, this type of obvious gesture surely can't be appreciated by the league.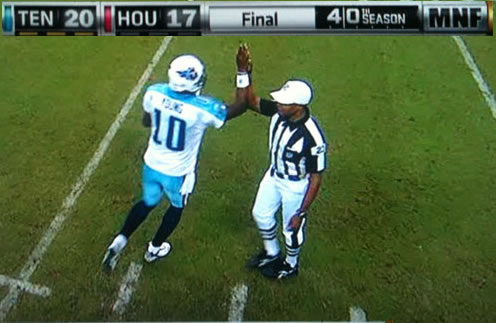 I know it's "guy code" to not leave a guy hanging, but under no circumstance should Boger have done this. He has to maintain his professionalism in this situation, fold his arms, and let Young go on his way.
If Chad Ochocinco is going to get fined for a $1 bribe (which he claims was a joke) then certainly Jerome Boger should have to pay a price for this gesture, shouldn't he?