Many of you are already talking about this play that occurred in the Packers-Niners game a little while ago.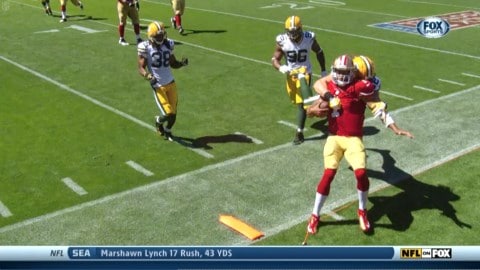 The staff at FootballZebras have a nice recap of what happened. In part:
Packers linebacker Clay Matthews was flagged for a late hit on Kaepernick well after Kaepernick had stepped out of bounds. The two teams engaged in a small scuffle afterward, when the 49ers were hit with unnecessary roughness foul.

Because the Matthews foul was two steps after the ball was dead, the fouls were on the dead-ball side of the ledger, and the proper call is to offset the two fouls and the down counts. That would have given the 49ers a fourth down and a likely field goal situation.

Instead, Bill Leavy and the crew offset and replayed the down. The 49ers took another shot for the end zone, and they scored.
While I don't agree that it necessarily "cost Green Bay the game", as some are saying, it certainly didn't help.  The Niners still might have gone on to win, but you never know.  Clay Matthews also had that soccer-esque fake dive to try and draw a penalty late the game, which fortunately the refs didn't believe.  My opinion of him certainly dropped today.
That said, this is a bad way for the refs to start the season.  A blown call or bad judgement is one thing, but this is simply a misinterpretation of the rules that was clearly wrong and had a dramatic impact on the game.  Not good…
Check out the FootballZebras post for a bit more info about it.