R 51 Carl Cheffers
U 20 Barry Anderson
DJ 94 Hugo Cruz
LJ 108 Gary Arthur
FJ 130 Land Clark
SJ 103 Eugene Hall
BJ 78 Greg Meyer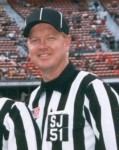 Carl Cheffers is married to Nanette, and have two children, Ben and Melissa. He resides in Whittier, California. Carl Cheffers' father also was a football official and worked in the Pacific-10 Conference (Pac-10).
As a college student, Cheffers became interested in officiating through his father, and decided to work intramural sports to make additional income. Enjoying the experience of student sports, he sought assistance from his father to officiate high school football games to begin a career. Starting in 1980, he worked several high school playoff games, and two high school championship games. By 1995, Cheffers began officiating in the Pac-10 where he worked for five seasons before being hired by the NFL. During this time, he also worked in the Western Athletic Conference.
Since entering the NFL, Cheffers has worked as a side judge, most recently on the crew headed by referee Larry Nemmers. Cheffers was promoted to referee (crew chief) beginning with the 2008 NFL season following the retirement of Nemmers and referee Gerald Austin.
In his promotion to referee, NFL officiating director Mike Pereira said of Cheffers, "Carl has been extremely successful on the field as a side judge. He is very knowledgeable of the rules, a good rules guy. Strong presence. He was part of Larry Nemmers' crew and he was clearly a crew leader. When we first saw Carl, we saw referee experience from him even though he had refereed basically at the small-college level."