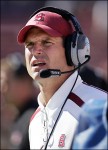 After Saturday's 28-21 loss to Notre Dame, Stanford coach Jim Harbaugh made it clear he wasn't pleased with the officials:
We got a couple of bad calls. It's hard to imagine people don't know football any better than that. Maybe I'll be swayed differently after I see the replay, but from what I saw on the field, I still can't get over it. It was a really bad call. It should have been our ball and a touchdown for us.
Unfortunately for Jim, there were two problems with those comments:
The officials were correct.  Pac-10 commissioner Tom Hansen confirmed that the call was correct.
Pac-10 rules prohibit coaches from commenting publically on officiating.
I'm a big Jim Harbaugh fan, but he really should have kept his mouth shut this time.
Any idea who the head official was in that game?