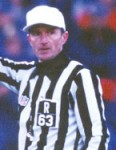 Bill Carollo was an American football official in the National Football League (NFL) from 1989-2008, wearing the uniform number 63. Carollo has officiated in two Super Bowls (1996 and 2003) and five conference championship games (1995, 1997, 1999, 2000, and 2005)
Carollo is a native of Wisconsin and attended Brookfield Central High School in Brookfield, Wisconsin and later graduated from the University of Wisconsin-Milwaukee (UWM) in 1974 with a degree in industrial relations. At UWM, Carollo played quarterback from 1970 to 1973 before the football program was disbanded.
Prior to joining the NFL, he officiated high school football, basketball, and baseball in Wisconsin and later joined college football's Big Ten Conference, where he stayed for ten years and included a selection to work the 1988 Rose Bowl Game. For a period of time, Carollo also served as the Milwaukee Brewers Official Scorer for the American League during the late 1970s and early 1980s.
Carollo started in the NFL as a side judge and officiated Super Bowl XXX in 1996, which was his final game at that position before being promoted to referee (crew chief) for the start of the 1996 NFL season. Carollo was assigned to work his first post-season as referee during the 1998-99 NFL playoffs and later made his second appearance in the Super Bowl at Super Bowl XXXVII in 2003.
Outside of his NFL officiating duties, Carollo worked as an international account executive for 30 years at IBM and served as the director of the NFL Referees Association, the union representing NFL officials, from 2000 to March 1, 2006. He was the center of the negotiations that took place during the 2001 NFL season where there was a work stoppage by game officials. The NFL and its game officials eventually agreed on September 19, 2001 to a new six-year Collective Bargaining Agreement that ended a two-week lockout of the regular officials, who returned to work on September 23, 2001.
Carollo currently resides in Shorewood, Wisconsin and is married and has four children. He devotes his free time to family and golf.