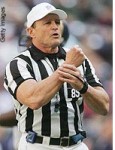 Edward G. "Ed" Hochuli (born December 25, 1950 in Milwaukee, Wisconsin) is an attorney and National Football League referee.
He graduated from Canyon del Oro High School in the Tucson suburb of Oro Valley, Arizona. Hochuli earned his B.A. with honors from the University of Texas at El Paso in 1972. While at UTEP, Hochuli played linebacker from 1969 to 1972. He earned his Juris Doctorate from the University of Arizona in 1976. He was admitted to the State Bar of Arizona in 1976 and has been a partner in the Arizona law firm of Jones, Skelton and Hochuli since 1983. He specializes in civil law and is admitted to practice in Arizona state and federal courts and the United States Court of Appeals for the Ninth Circuit.
He began to work for the NFL in 1990 as a back judge after many years as a college official in the Big Sky Conference and Pac-10. He was promoted to referee in 1992 and has since been referee for Super Bowls XXXII and XXXVIII, as well as the alternate referee for Super Bowl XXXVII. He wears number 85.
Hochuli is probably the NFL's most popular referee, in terms of name recognition, among both hardcore and casual football fans. He is best known for his long dissertation-like explanations when announcing penalties and other calls. He even once was mentioned on talk show host David Letterman's Top Ten List. He is also known for his unusually muscular frame compared to other NFL referees, most notably his biceps. His likeness appears in the Madden NFL series of video games for the XBOX 360 video game system starting with Madden NFL 06.